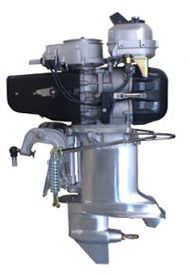 Yamato 302 Motor
BEFORE ANY MOTOR IS SHIPPED, YOU MUST COMPLETE AN 
EPA CONTRACT
 AND SUBMIT IT TO 
APBA HEADQUARTERS

About the Yamato 302
The Yamato model 302 is a 24.2 cubic inch racing engine. Like it's predecessors, (the model 80, 102 and 202) this motor was developed specifically for use in the multi-billion dollar para-mutual boat racing industry in Japan. These motors are required to run heat after heat, day after day with perfect reliability at racing speeds. Therefore, they have been "over-designed" in relation to the job they perform.
In the United States, the Yamato 302 is used by the American Power Boat Association (APBA) in the Stock, Modified and Professional Categories. Internationally, it is raced in the Union of International Motorboating (UIM) OSY 400 class with races being held around the world. Where ever outboards are being raced, you will certainly find Yamato Racing motors being used.
After the Yamato 302 is used in para-mutual boat racing for up to one year, the motors are released for sale to be sold on the world wide market. The motors are backed up with an excellent replacement parts network within the United States and Europe.
When ordering this engine through our website you will receive a "sealed" 302 Yamato engine for use in the new 302SSH class in the Stock Outboard category. Your engine will be disassembled by our importer and re-assembled with fresh piston rings and cylinder honing before sealing. During the tear down, the engine will go through a full inspection and will have a kill switch plug installed for safety. Before shipping or pickup, a new 302 Super Stock propeller will be included with the engine at no additional cost.
Please contact: stockoutboard@apba.org for more info.